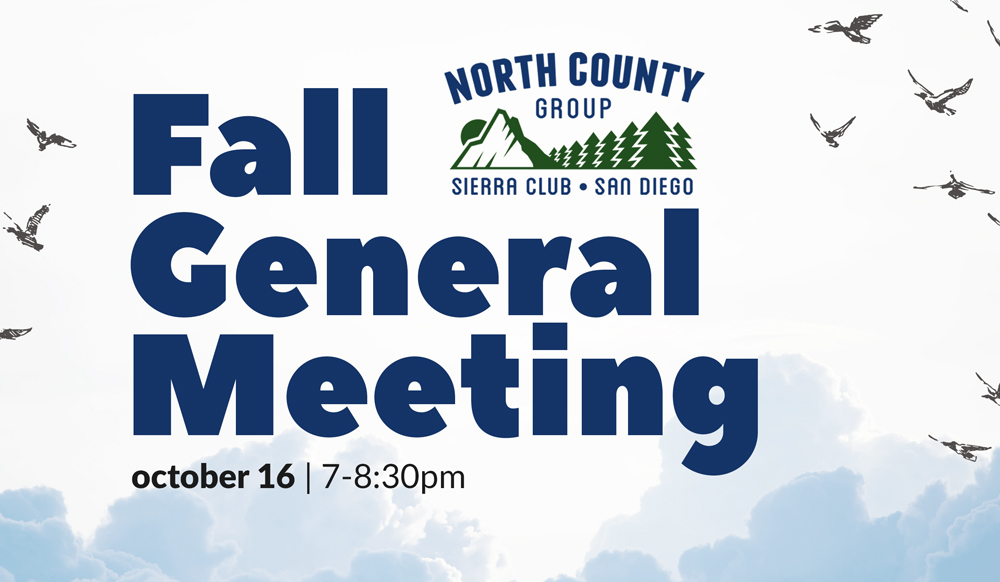 Mark your calendars!
The North County Group Fall General Meeting is coming up October 16th.
Proposed Backcountry Developments are Wrong for San Diego
Recently, the San Diego County Board of Supervisors has taken action to accelerate numerous sprawl developments in our region.
Join the Sierra Club North County Group members for a public meeting and presentation by local activist experts and members of the Elfin Forest Town Council on the development issues impacting our local open spaces and backcountry.
Jacqueline Arsivaud will discuss the Boards' recent actions to 'bundle' General Plan Amendments. JP Theberg will discuss the kind of housing we need and demonstrate that the developments being approved by the Supervisors are out of reach of most residents and not the type of housing the region needs.
The Sierra Club supports housing in appropriate locations and within reach of the wide range of economic levels in our County. We want housing that is affordable, located in transit friendly areas, and that does not destroy local habitats and wildlife corridors. The Sierra Club supports the County General Plan and opposes these many amendments to it.
Tuesday, October 16
7:00-8:30pm
Escondido City Hall (click for Google map)
Mitchell Room
201 N Broadway