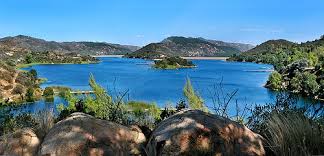 Join the North County Group on Saturday, June 4th, for our Annual Picnic at Dixon Lake! The picnic is from 12-3pm and is open to all Sierra Club members, family, friends, and past students of the Wilderness Basic Course. BBQ lunch and beverages will be served, just bring your own chair or blanket.
There will be 2 hikes offered at Daley Ranch in the morning:
Boulder Loop Dayhike (M4B) Moderate 4 miles 501 to 1,000 feet elevation change                                                             A great way to spend the morning before the North County Group annual picnic at Lake Dixon. Meet at the parking lot at the end of La Honda Drive in Daley Ranch at 7:45am, for a getaway of 8am. We will start on the Ranch House Trail before branching off onto the beautiful Boulder Loop, a rugged trail with good hills and great vistas. Lug soled shoes or trail runners are required. Expected length of hike is 2-3 hours. Bring 2 quarts of water, a hat, sunscreen and a snack. Please RSVP Leader Kelly Mamer by email or phone nagle.mamer@gmail.com (858)-525-3824
Stanley Peak Loop Dayhike (M6C) Moderate 6 miles 1,001 to 2,000 feet elevation change                                                              8:00 AM Stanley Peak Day Hike followed by North County Group Sierra Club Picnic at Lake Dixon. Come join us on a 6.2-mile loop hike through Daily Ranch in Escondido. The hike will begin at the Daily Ranch dirt parking lot located at the northern end of La Honda Drive. Directions: Exit Interstate 15 at El Norte Pkwy and head east 3.2 miles turn Left on La Honda Drive and drive up hill 1.3 miles to parking lot on left. Shoes with good traction are advised, water, sun protection, and a snack to eat at the peak. Please RSVP Leader Al Fein by email or phone. (858) 449-3333 iAmHikerAL@Yahoo.com
For Picnic general questions contact Liz – lizluepton@yahoo.com or Suzan – sznvarga@yahoo.com.
Directions:  East on El Norte Parkway from I-15, 5 miles, turn left on La Honda Drive.  There is a $5 parking fee at Dixon Lake, however seniors park for free.  Proceed to 2nd parking lot near the concession stand.  Look for the Sierra Club banner in the parking lot and the picnic area will be to the left of it down a short hill.
Image courtesy of