The Sierra Club has endorsed five candidates running in inland North County elections. The endorsed candidates are as follows:
Escondido City Council
Don Greene, District 3
Andres Yanez, District 4
San Marcos City Council
Alan Geraci, District 3
Neil Kramer, District 4
Vista City Council
Katie Melandez, District 3
Vallecitos Water District Board
Tiffany Boyd-Hodgson, Division 5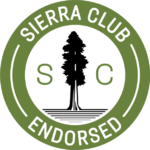 "The Sierra Club is confident that these candidates will further the goals of the Club in inland North County. Issues of social equity, climate action, conservation, and sustainable and equitable urban infill development are of highest priority for the North County Group of the Sierra Club", stated Dave Hogan, Chair of the Executive Committee of Sierra Club San Diego Chapter.
Inland North County local governments play an important role in efforts to achieve environmental, climate, human health, environmental justice, and conservation priorities. In San Marcos, discussions around the General Plan Update will be critical. In Escondido, the controversial housing development, Harvest Hills will soon be up for a vote. All three North County cities have Climate Action Plans under update. The adoption of necessary city Habitat Subarea Plans are also goals of the Sierra Club.
"We are excited to endorse these candidates as they demonstrated they are committed to visionary climate action, Community Choice energy, deployment of renewable energy, quality urban infill development, opposition to sprawl, and preservation of natural resources," stated Laura Hunter, Chair, North County Group Conservation Committee.