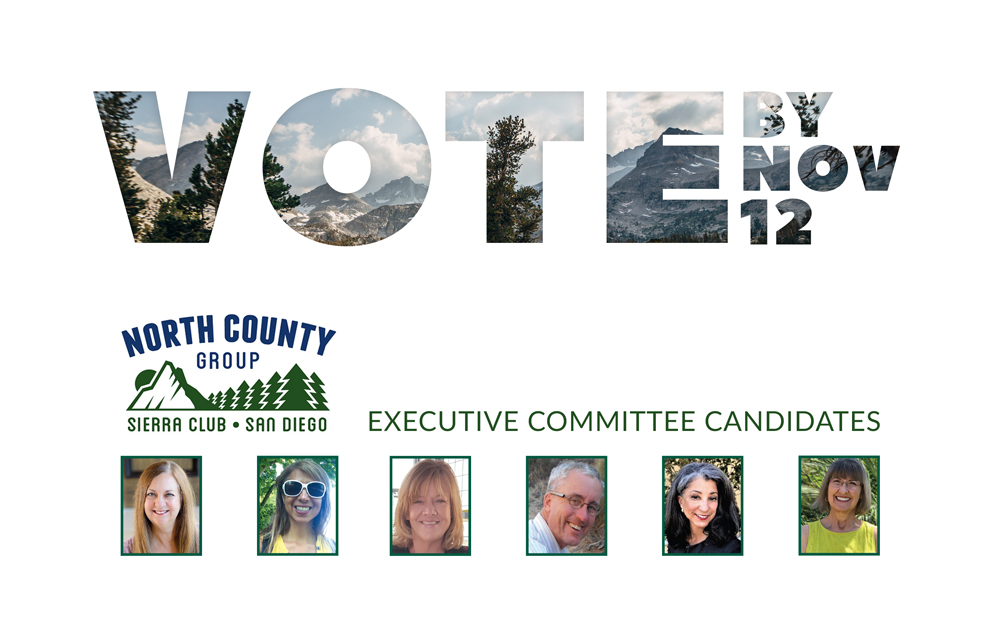 Ballots are out and voting is on for the North County Group Group Executive Committee.
The Sierra Club North County Group (NCG) is holding elections to fill four vacancies on its Executive Committee. The NCG Executive Committee has overall responsibility to assure that the activities and services provided for the members are consistent with the bylaws, rules, and policies of the Chapter and National Sierra Club. These activities may include outings, membership services, financial management, conservation and political programs.  The Executive Committee meets monthly and attendance is expected.
All ballots must be received by 5pm NOVEMBER 12, 2018
Make sure you get your ballot in the mail in time to be delivered by November 12.
North County Group Candidates:
Committee members are elected to serve a term of two (2) years. You can vote for up to four (4) candidates.
Suzi Sandore
Shae Alai
Lisa Allen
Doug Grover
Deborah Vande Berg
Angie Butler
Read the candidate statements in the current issue of the HiSierran (on page 17) >
Print and mail your ballot (on page 21) >