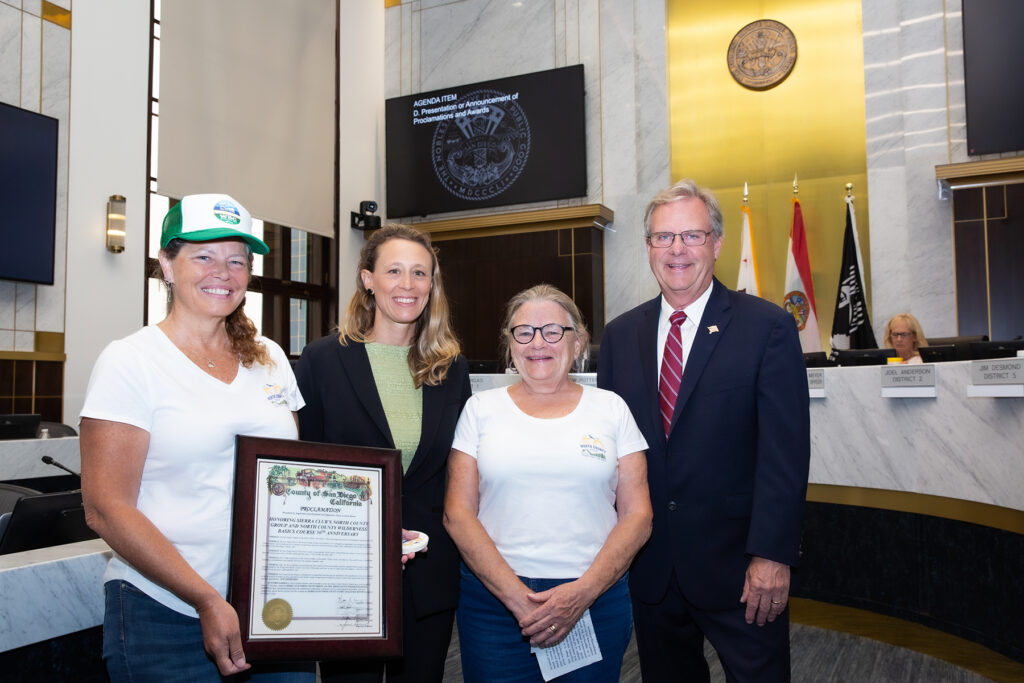 On June 29, 2021 the Board of Supervisors, led by Supervisors Terra Lawson-Remer and Jim Desmond presented a resolution of acknowledgement to leaders of the Sierra Club North County Group and Wilderness Basics Course.
"It is my honor to co-present this proclamation with Supervisor Jim Desmond to celebrate Sierra's Club 50th Anniversary of the North County Wilderness Basic Course. Since 1971, Sierra Club North County has dedicated their efforts to exploring, enjoying, and protecting the planet – starting here in their communities in North County. Together the Sierra Club has trained over 2,800 community members who now carry the values of the club with them wherever they go – whether they are hiking the great outdoors or just appreciating the wonders of our local habitats," stated Supervisor Remer at the event.
Check out this clip from the County BOS meeting in case you missed it!
The resolution helped kick-off a year long 50 Hike Challenge sponsored by the North County Group which began on June 1, 2021. Hike up to 50 North County San Diego hikes between June 1, 2021 and May 30, 2022, and you could be eligible for a prize. Rules for the 50 Hike Challenge can be found on the 50 Hike Challenge page.
Follow us on Facebook and Instagram, and tag your photos using the hashtag #NCG50for50!
See everyone on the trail!
Image courtesy of Jamie LU