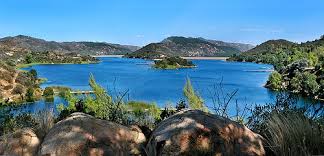 Join the North County Group on Saturday, June 10, 2017 for our Annual Picnic at Dixon Lake! The picnic is from 12-3pm and is open to all Sierra Club members, family, friends, and past students of the Wilderness Basic Course. BBQ lunch and beverages will be served, just bring your own chair or blanket.
Morning Dayhikes
7AM – North Boulder Loop Hike
Let's check out the northern Boulder Loop. We'll head up to the kiosk then pick up Cougar Ridge and return via Crest Trail. There's a lovely view of the valley from the kiosk. Perhaps we'll see small toads along the way. They were out this morning! Also, lots of native plants are still in bloom. You'll see the Bush Monkeyflower in hues of red, orange and yellow. See if you can find yellow Rush-Rose or Coastal Goldenbush in bloom. Or deerweed. This will be a friendly slow-paced hike. We'll meet at the parking lot across from the Dixon Lake entrance. Please contact Leader Linda Olow if you're interested in joining us on this hike for meeting time and location details: lolow81@gmail.com or 858-354-5976
9AM – Sage Creek/Coyote Run Hike
Join us for this pleasant 3 mile loop through the hills of Daley Ranch. We'll hike among the beautiful meadows and ponds that characterize the Ranch. Many flowers are still blooming. This is a mostly easy to moderate hike with an elevation change of around 400 ft. We'll start with the hikers-only "Chaparral Trail," a short nature trail with educational placards describing the area and some of the local flora, then meet up with the Sage Creek Trail. If there's interest in the group, we'll take a short side-track to the Old Water Tower before heading back down via the less-used Coyote Run Trail. The Creek Crossing Trail will offer up some short, moderate hills to finish us off back at the cars in time for the Sierra Club North County group picnic at noon. Bring 2 quarts of water, snack, sunscreen, hat, and sturdy shoes. We'll meet at 9:00am sharp at the La Honda trailhead.
Please RSVP with the leader Chris Shaw via text message (619-709-1701) or email cee.bee.ess@gmail.com
For Picnic general questions contact Liz – lizluepton@yahoo.com.
Directions:  East on El Norte Parkway from I-15, 5 miles, turn left on La Honda Drive.  There is a $5 parking fee at Dixon Lake, however seniors park for free.  Proceed to 2nd parking lot near the concession stand.  Look for the Sierra Club banner in the parking lot and the picnic area will be to the left of it down a short hill.
Image courtesy of